Work faster, draft smarter, and plan for what comes next.
You already know how to research what the law is and how to find the right cases and statutes. What you really need is to move beyond practice guides and traditional legal research as quickly as possible, so you can deliver the high-value strategic analysis that saves you time and your clients money.
Practitioner's Workflows, How-To Guides, Strategy Notes, Charts, Checklists, and annotated Sample Documents empower you to complete even unfamiliar tasks with skill and confidence, while helping you understand the broader context of your legal matter so you can plan for what comes next. Start smarter, understand the big picture, learn from the experts, draft quickly, and advise your clients.
---
Maximize efficiency with California-focused legal know-how.
---
California-Focused
All Practitioner resources are written by California lawyers, by California lawyers, so you won't waste time adapting language or tactics meant for another state.
---
Strategize & Think Ahead
Use Workflows to understand the chronology of the major tasks and issues necessary to navigate specific types of legal matters in your practice areas.
---
Ask the Experts
Use How-To Guides to learn how California judges want things done & find out how other experienced practitioners have approached the same task.
---
Draft with Confidence
Draft unfamiliar documents or cross-check the forms you already have, using detailed annotations on the use and adaptation of the language.
---
Do More in Less Time
Add client value, no matter the stage of your legal career: newer attorneys get a clear blueprint for their work while experienced practitioners benefit from sophisticated insight into the emerging issues in their field.
---
Integrated with Legal Research
The detail is there when you need it. Primary law with TrueCite™ and all your favorite practice guides are included in your subscription so you can move seamlessly between Practitioner and traditional legal research.
---
Select the right practice areas to customize your Practitioner subscription:
Browse our content to see what's right for you.
More practice areas coming soon, including Business Litigation, Real Property Litigation, and transactional matters.
---
Compare Legal Research Solutions
Compare Practitioner to other legal research solutions
---
Still need primary law and secondary sources? Don't worry, you get those, too.
Practitioner is your all-in-one practical guidance and legal research solution. All subscriptions include CEB's primary law research tool with TrueCite™, our powerful case law citator. Plus, you get a comprehensive set of curated practice guides in your chosen practice area(s).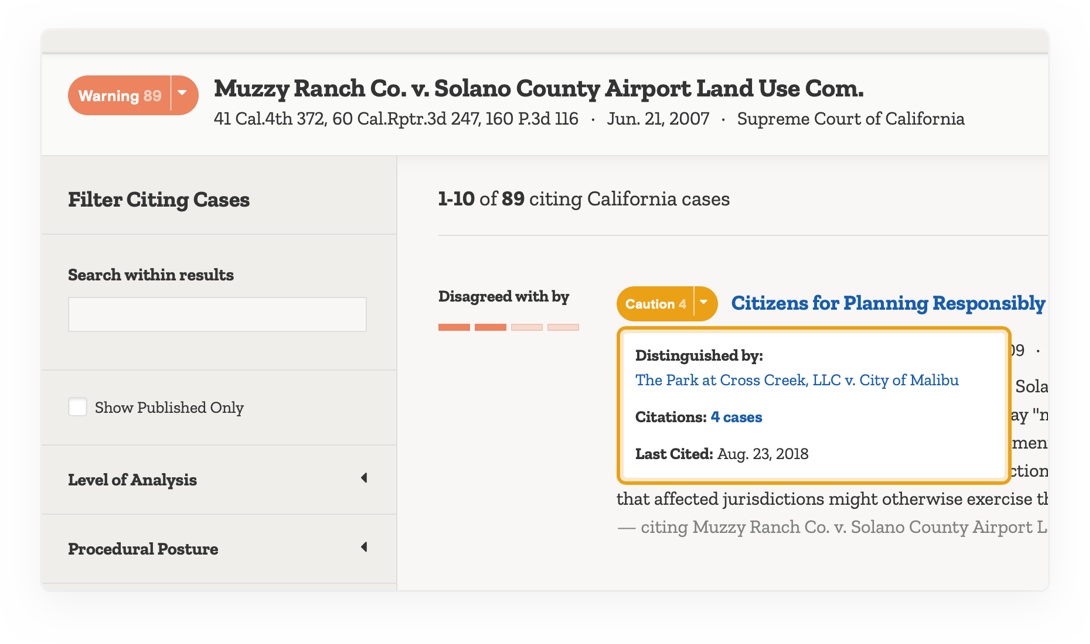 Primary Law with TrueCite™
Leverage our best-in-class legal search to find the most relevant content, fast. Narrow your results with advanced filters, including court, cause of action, procedural posture, and disposition. Coverage includes California Court of Appeals and Supreme Court, Ninth Circuit Court of Appeals, and U.S. Supreme Court case law, as well as the California Codes and California Constitution. Plus, TrueCite™'s color-coded treatment flags let you know at a glance whether a case is still good law.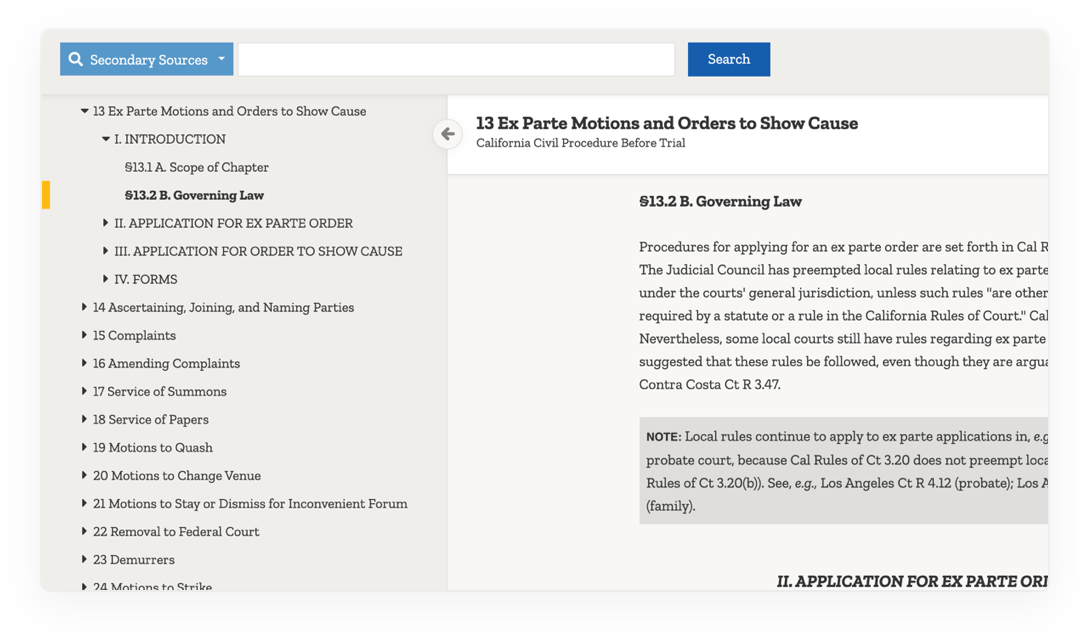 California-Focused Practice Guides
Rely on CEB's expert community of contributing judges and lawyers to frame and organize the legal issues for you before you dive into case law research or start drafting. The most trusted and comprehensive California-specific practice guides available, in curated practice area libraries that meet the needs of California lawyers.